Melbourne's Fire Safety Report provider with a difference
When your building's fire safety equipment and systems are serviced by Fire & Wire, a detailed report will help you quickly identify any areas required for improvement or compliance.
Building managers are responsible for ensuring these are completed on time, along with any defects addressed, however we aim to take this pressure off you with our accurate assessment and reporting. 
In Victoria, an Annual Essential Safety Measures Report (AESMR) is required every year to ensure essential safety requirements are being fulfilled, and related equipment is working.
Why use Fire & Wire for your fire safety reporting needs?
Our reporting is transparent and if our technicians identify a defect during their fire safety maintenance or assessment, our live reporting allows us to give you an immediate quote to rectify the defect without having to return for further maintenance.
Fire & Wire's clients have access to an online dashboard so they can access their historical service reports at any time.
Don't underestimate the power of having knowledge at your fingertips! We've had clients access their fire safety reports for insurance purposes, or at times where there may have been a false alarm that triggered costly fire and emergency services to attend.
These fire safety reports are also helpful when shopping around for insurance, as it's easy to access your reporting history to prove you're regularly testing and maintaining your safety systems.
Is your building due for a fire safety report?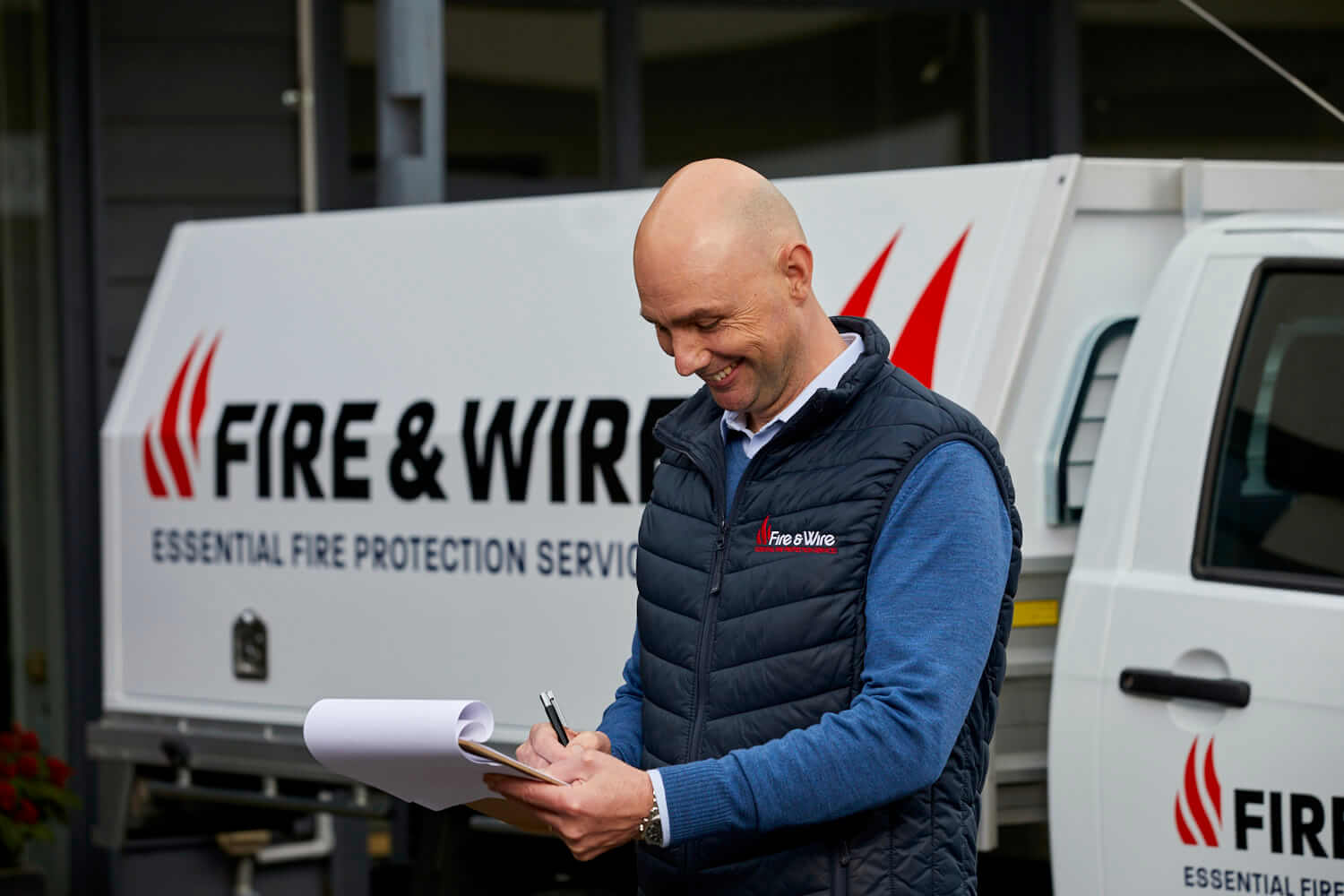 Staying on top of safety audits means your building continues to remain compliant, and most importantly, safe.
Commercial and residential fire systems have different service schedules, depending on the location, building and industry. To meet minimum requirements, you might need to have your building's fire systems and equipment inspected either monthly, quarterly, bi-annually or annually.
Unsure when your next service is due? We are happy to take on the fire safety reporting responsibility and schedule in your services to ensure you remain compliant while giving you peace of mind. We have been using our in-depth fire safety reporting software for the past seven years, providing our clients with digital fire safety reports, but we also keep written logbook hard copies available as backup documentation.
Get in touch
Need to schedule a maintenance service and keep track of reporting? Fire & Wire will ensure you stay compliant with council, state, and federal regulations.
Drop us an enquiry or phone us on 1300 295 337.