We take our role very seriously so that you can continue to do the same. Our clients include schools, factories, medical facilities, office premises, and residential buildings (to name just a few) right across Melbourne, and they enjoy the peace of mind they get with Fire & Wire. We are well respected in the industry with more than 100 years' combined industry experience, ISO certification, and accreditation with the Fire Protection Association Australia.
Commercial business fire protection starts with quality design and installation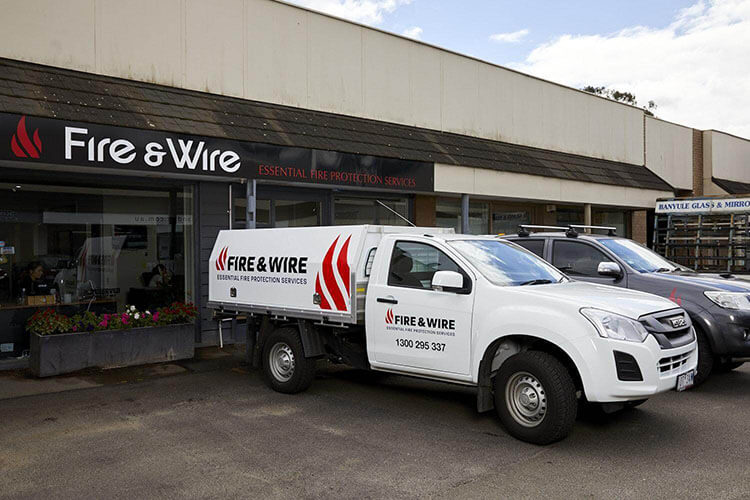 Based in Melbourne's CBD, we offer speedy turnaround times to help you design, build, and commission your new build so you can get up and running faster. Depending on the scale and scope of your fire safety requirements, once plans are approved, we could have your fire systems and equipment installed, certified and protecting your space in as little as three weeks, but we also appreciate you may need longer. No matter the time frame, we're here with you for the long haul.
We have worked with many businesses that have scaled their operations since they first opened, so if you need to ramp up your production, we have the systems in place to grow with you.
Our commercial installation and maintenance covers:
• Building fire safety systems;
• Fire protection equipment;
• Commercial fire alarms;
• Fire suppression services;
• And much more.
The Fire & Wire difference
Fire & Wire believes in working with clients from conception to completion. This means being by your side during the design stage to offer you guidance on the best solution and locations for your fire systems and equipment, as well as ensuring your people and premises remain safe, month in and month out.
If you want a one-stop-shop for all your fire safety commercial needs in Melbourne, you've found the answer here. We invite you to take the stress of hiring multiple contractors off your plate, because Fire & Wire can help with all your fire protection needs including wet and dry fire systems, electrical installation and testing, fire safety installation, fire safety maintenance and staff training. 
If you're interested to see how fire-ready your building is, take our Safety Quiz today! 
Reach out to us today
Need a dependable fire safety systems company for your next commercial project or to maintain your existing business premises? Enquire with us today to see how we can assist. 
Drop us an enquiry or phone us on 1300 295 337.