Fire sprinkler installation guide
Fire sprinkler systems are an extremely effective solution for controlling fires in a variety of commercial and residential buildings. In fact, an effective and properly installed fire sprinkler system could be the difference between a minor accident and severe property damage or injury.
Fire & Wire has experience with fire safety installation in Melbourne, including fire sprinkler systems. We make fire safety and sprinkler installation easy, affordable and hassle-free, to give you peace of mind so that you can focus on doing what you do best.
On that note – to help ensure your business's fire safety is up to scratch, we've taken a closer look at everything you need to know about fire sprinkler installation.
How fire sprinkler systems work
Fire sprinkler systems consist of two main components that work together to provide protection from fire:
A network of pipes connected to mains water, or a separate water supply.
Fire safety sprinklers set apart at regular intervals.
Most sprinklers have a glass bulb filled with a heat sensitive liquid that is used to activate the sprinkler when the air heats up. When the liquid comes in contact with hot air, it expands and shatters its glass bulb which turns on the sprinkler, releasing pressurised water to douse the fire. Simple. The great thing about this type of system is that only the sprinkler heads near the fire will be activated.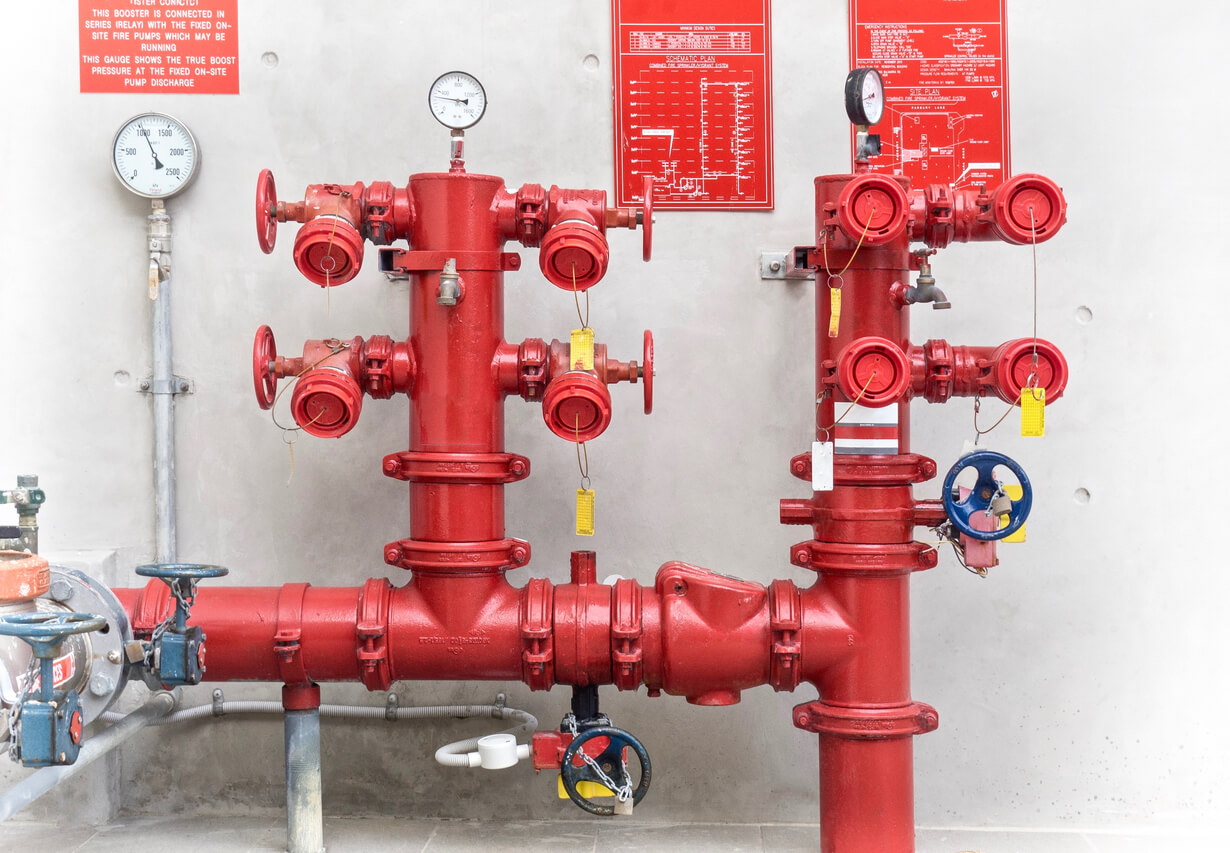 Fire sprinkler installation
Even the most advanced fire sprinkler system is only as good as its design. If yours is designed incorrectly, you risk it not operating correctly when you need it most, or not functioning at all.
Luckily, avoiding this is simple. To make sure your building is as safe as it can possibly be in the event of a fire, get in touch with the experts at Fire & Wire.
We can either conduct a detailed assessment of your existing fire sprinkler system to ensure its fit for purpose and fully functional – or install a new system that is built specifically for your building and your requirements.
If installing a new sprinkler system, we will:
Complete a detailed assessment of your building to determine what is required.
Install your system with the help of our experienced fire safety experts.
Check that all aspects of the system are functioning as they should be, including your water supply, piping and sprinkler heads.
Our experienced, detail-obsessed technicians will ensure that your fire safety system is installed correctly and functions as it should when you need it most.
Fire sprinkler system maintenance
As the person responsible for fire safety, it's up to you to meet Australian Safety Standards. That means you must ensure that all your fire safety installations and fire sprinkler systems are correctly maintained.
To make it easier for you, Fire & Wire stay in touch after fire safety installation to create and carry out maintenance of your fire safety system. That includes independent testing of all components of your system, replacement and repair of faulty components, and keeping records of all fire system maintenance.
Fire safety systems have different requirements depending on the size and type of the premises and the type of fire safety system that's installed. But with that said, we recommend the below frequencies for fire system testing as a legal requirement:
Check fire systems monthly;
Service fire extinguishers 6 and 12 monthly;
Test smoke alarms every six to 12 months.
Does your fire sprinkler system need updating or maintaining? Fire & Wire are Melbourne fire safety installation and maintenance experts, with decades of experience. Drop us an enquiry or phone us today on 1300 160 327.