Fire safety tips for winter: Don't become complacent
While November to February is known as bushfire season, fires are not seasonal. They still cause devastation across Melbourne and regional Victoria in winter, and the commercial, corporate, and residential development sectors are not exempt from such destruction.
While the weather outside might be cold and grey, the winter months aren't the time to become complacent around fire safety. In fact, COVID lockdowns can provide the perfect opportunity for you to get on top of your fire maintenance while your buildings are empty.
Here are our top tips for fire safety during the winter season:
Maintenance of fire safety equipment: Check, Test and Service
It's easy to fall into the trap of believing fire risk decreases in winter, but the truth is that the change of season doesn't change the amount of risk.
A fire has the potential to devastate a business – and lives – overnight. While there are many things to think about as a building manager or owner, fire safety checks should be at the top of the list. All fire equipment needs to be regularly tested to ensure it remains in working order. Fire equipment that needs to be regularly serviced includes fire alarms and extinguishers, as well as fire doors and walls.
Clear exits and doorways of clutter and combustible material
It's important exits are clear of clutter and combustible materials at all times, as this can pose a fire risk.
In 2021, winter is also accompanied by greater chances of snap lockdowns due to COVID-19, so keeping warehouses and other commercial buildings tidy at all times can help minimise fire damage in an unoccupied building.
Fire testing and servicing schedules should continue even if a building is empty. At Fire & Wire, our month-to-month fire system maintenance isn't affected by lockdowns, and these routine checks give added peace of mind for many building managers around the state.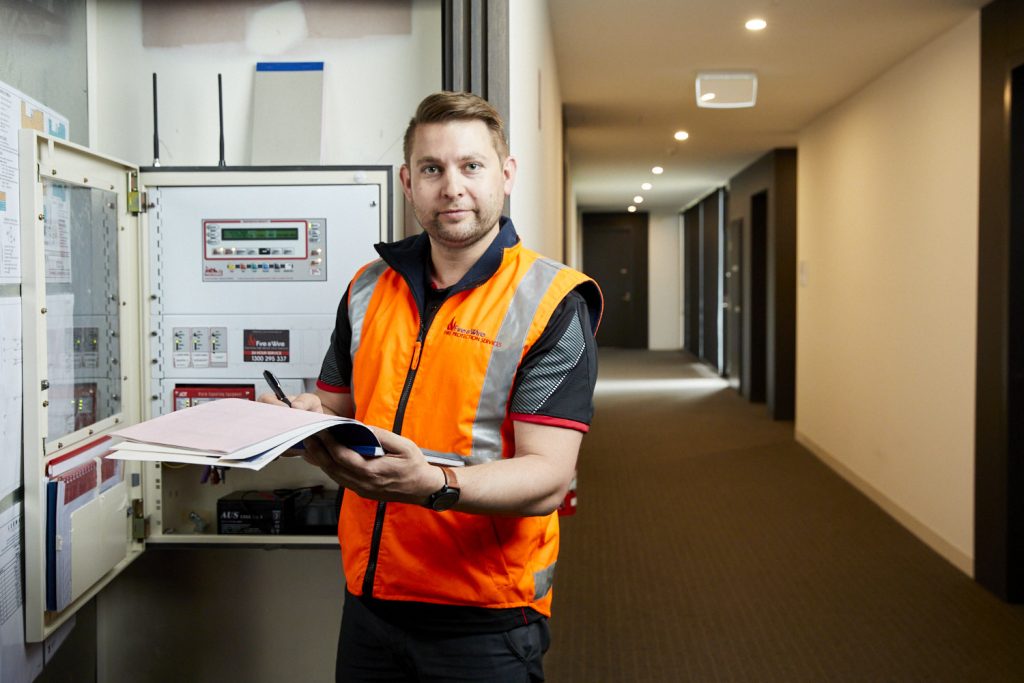 Evacuation drills and 'disruptive' testing
In 2021, more staff than ever are working from home year-round; this makes evacuation and alarm systems in workplaces easier to test as there is limited disruption to employees or tenants.
If you can't remember the last time you tested your alarm system, now might be the perfect time to test sound levels on evacuation systems within commercial buildings.
Fire safety maintenance checklist
Below is a quick checklist of questions to assess when checking basic fire safety maintenance measures within your building this winter:
Evacuation and alarm systems:
When was the alarm system last serviced?
Is there a clear evacuation plan in place in the event of a fire?
Are all staff trained in evacuation procedures?
Fire safety equipment:
Are the appropriate fire extinguishers installed and are they regularly serviced?
Is the sprinkler system regularly tested and maintained?
Is there emergency lighting in place and have they had their scheduled 90-minute test?
Are fire doors and escape routes clearly marked and free from obstruction?
Stay on top of your fire safety this winter
Don't get complacent because the temperature outside has dropped. Follow the above checklist and reach out to a fire safety specialist to correct any faults.
We can help to thoroughly test all of your fire safety systems, no matter what type of commercial building you manage. Contact us today and see how we can assist.