Fire Safety Evacuation Plan: Is your building compliant?
If you are the owner, manager, or operator of a facility or public space, you will need to ensure your Fire Safety Evacuation Plan (also called a Fire Emergency Plan) is up to date.
Neglecting to ensure your evacuation processes are compliant could result in unnecessary safety risks, or a hefty fine from regulatory authorities.
What buildings need a Fire Safety Evacuation Plan?
Put simply, any building within Australia that is open to the public needs to have a Fire Safety Evacuation Plan in place to ensure visitors, staff, and tenants are safe at all times.
These public spaces include:
Shopping centres and schools
Tenanted buildings such as offices, commercial precincts, and medical practices
Venues where people sleep (such as hotels, resorts, apartment blocks)
And virtually any other building that is not deemed a residential dwelling.
The individual responsible for this Fire Safety Evacuation Plan is the 'person conducting the business or undertaking'. For example, this could be the owner of the business, site manager, head of staff at the school or the warehouse manager. Regardless of who manages the facility, safety is everyone's responsibility, so we encourage everyone to keep an eye out for Fire Safety Evacuation Plans and ensure they are up to date.
What you might not know about your Fire Safety Evacuation Plan
Surprisingly, even though we are highly regulated in Australia, in some respects, we are behind the western world when it comes to fire safety.
While many businesses might have existing evacuation plans, many of these drawings have been neglected over a number of years and are no longer applicable. It's not uncommon to see hospitals add new wings and carparks, or schools build new classrooms, and not install new Fire Safety Evacuation Plans. This meant that if you were in a wing of the hospital that wasn't a part of the original building, then you'd have no idea where the emergency exits were in the event of a fire.
Don't let this be your business! Ensure your fire emergency plan is up to date and keep the visitors to your business safe.
How do you know if you're not complying with fire safety legislation?
You know you need a fire emergency plan, but how can you determine if your premises are in need of a revamped Fire Safety Evacuation Plan?
Walk around the premises and visit common areas, wet areas, entries to lifts / stairs, and exit points. If there was a fire emergency at each point, could you locate a Fire Safety Evacuation Plan quickly and easily? Make note of any area that needs attention.
Check whether the existing drawings match the current layout of the building.
Investigate whether the fire extinguishers and fire hose reels are clearly marked on the drawings. The 'break glass' alarms should also be on the evacuation plan, as these are used to call the fire trucks – they are an important addition and one that is often excluded from the drawings.
If you're unsure what needs to be on your building's Fire Safety Evacuation Plan, or you're concerned about an inadequate quantity of easily-accessible plans, make sure you contact a fire safety specialist to get expert advice.
What are the consequences for non-compliant emergency evacuation systems?
If your evacuation plan is found to be non-compliant, you may be issued a council order which means you will have between 30 and 60 days to bring it up to date and comply with regulations.
The council order could relate to any defects found within the Fire Safety Evacuation Plan, such as fire extinguishers that are due for maintenance, or smoke alarms that have dead batteries.
If you are still found to be non-compliant after this time, then you can face serious fines. These fines will depend on where you are based, but for example, in Victoria these fines can amount up to $30,000. In Victoria, Fire Safety Evacuation Plans fall under the Work Health & Safety Regulation 2017 standards.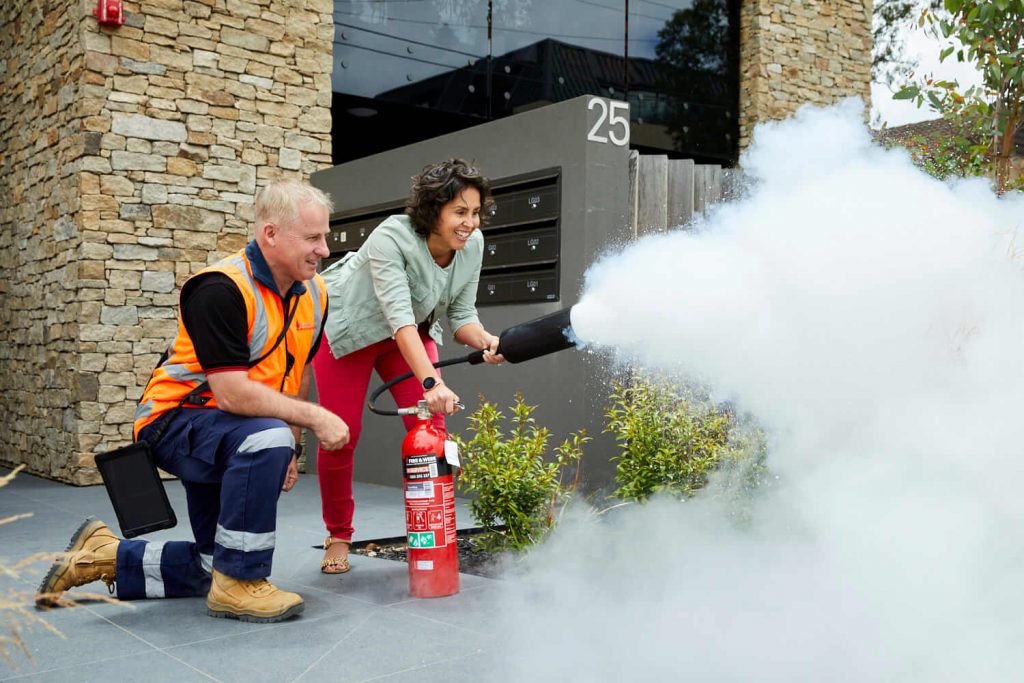 Get in touch with us today
At Fire and Wire, we help small and large businesses with their fire safety compliance, assisting them with services including equipment installation, maintenance and fire safety training.
We assist hundreds of businesses every year with updating their Fire Safety Evacuation Plans – it's automatically included for any client requesting our safety training course.
Having been in the fire safety business for 20 years, we are Victoria's go-to fire safety specialists. We cover every aspect of fire safety and are well-versed in internal fire safety audits.
Give our friendly team a call today, or chat with us online in business hours.