Understanding fire safety equipment servicing and AESMR reports
Do you know when your fire extinguishers are due to be tested? Has someone inspected your fire indicator panel in the last 30 days? What about your fire and sprinkler pumps?
Fire equipment servicing and maintenance can be a headache. But the good news is, while the responsibility of fire safety is yours, the burden doesn't have to be!
Maintenance and prevention is everything when it comes to fire safety, and all equipment needs to be assessed at different times throughout the year, with its own unique testing criteria.
Fire & Wire are Melbourne's experts in fire safety. In this article, we take a look at some of the equipment we test and maintain so that you can better understand your compliance responsibilities.
Fire safety equipment essentials and servicing schedule
All equipment requires a record of service.
Here are 6 common fire safety equipment items, and their service schedules:
Fire indicator panel (monthly)
Sprinkler system (monthly)
Fire and sprinkler pumps (monthly)
Exit and emergency lighting (every six months)
Fire extinguishers (every six months)
Fire and smoke doors (every three months)
A reputable and licensed company, such as Fire & Wire, should carry out these fire safety maintenance services. On completion of the checks, a report needs to be provided, indicating where safety could be improved.
Maintenance is often completed at different times of the year, so these checks don't necessarily appear on the same report.
What is an AESMR report?
An Annual Essential Safety Maintenance Report (AESMR) is a yearly independently signed off report that combines all your safety data for the past 12 months.
At Fire & Wire, we subcontract AESMR reports if clients want an independent assessment rather than us auditing our own work on top of regular maintenance, adding an extra step of due diligence within the process. We are frequently contacted by AESMR providers requesting evidence of the work we do for clients and we are happy to provide evidence of our service schedules.
An AESMR isn't mandatory if you can show regular maintenance reports through a provider like Fire & Wire, so this is just an option for added peace of mind.
Reporting and recording fire safety equipment
Each time a service is carried out, it is a new audit. The only existing reports we leave on site is the exit and emergency lighting testing reports.
Log books are kept on site to track tests, and Fire & Wire takes extra care with this data by also uploading it to the cloud, so access to the information is guaranteed even if the logbooks go missing or are damaged in any way.
What happens after a fire safety report is conducted?
Fire & Wire is a licensed and registered company specialising in fire safety systems and equipment. At Fire & Wire, all standard reporting is built into our service costs, with the only additional fee being an AESMR report – although these aren't essential.
As part of our live reporting, we provide all information on what needs to be fixed or maintained, and can provide a service report and quote for these repairs on the same day. This allows our clients to fix any safety breaches immediately.
While we ensure we report any safety issues, the onus is on the tenant to fix these breaches.
Through our regular maintenance, we gather a clear understanding of your premises and can help you to plan for end-of-life equipment replacement. We also detail larger required works so they don't pop up when you're least expecting them.
Some clients prefer to introduce a spend limit for any required maintenance repairs, reducing long-term costs by being able to repair or replace equipment during the audit. This ensures you remain compliant and also reduces the need for us to return to site to work on the equipment after a quote is approved, saving on additional callout fees and reducing impact on internal resources by mitigating ongoing approvals.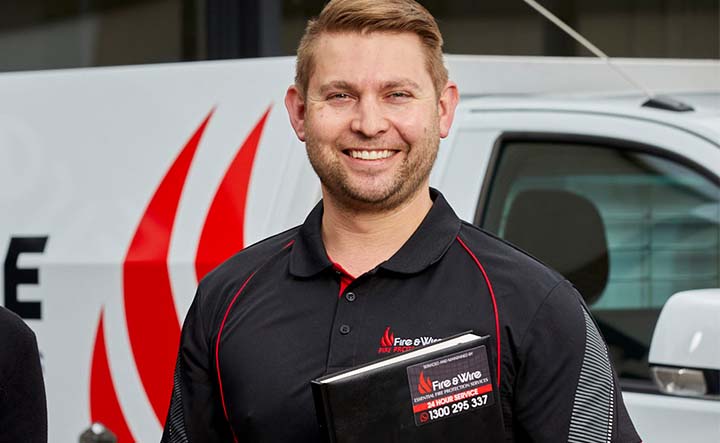 Worried about your building's fire safety compliance?
Get on top of your fire safety maintenance checks and reports today, hire us to do the work. Ensure you're working with a reputable, licensed company like Fire & Wire and rest assured knowing your building is safe.
Contact us today for more information.