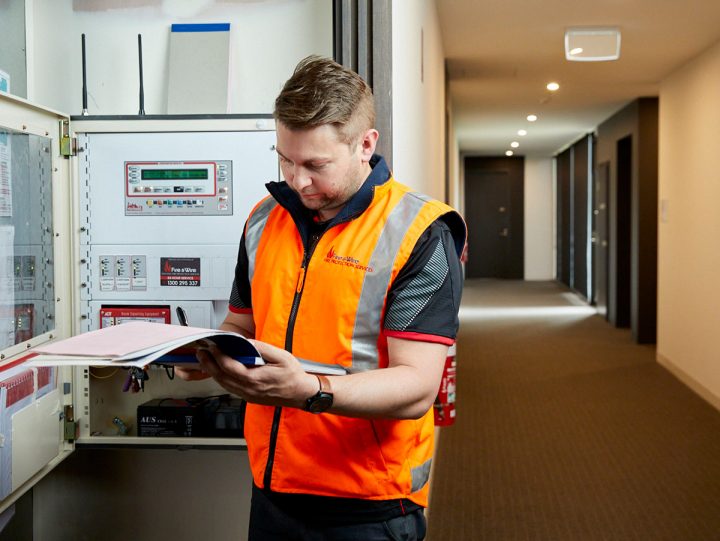 Dry fire protection – Minimising your fire risk
What's the best approach for creating long term fire safety?
Planning your fire protection system should ideally take place from the initial design stage of your build. This is the optimum time for a well designed solution to suit the building and the businesses occupying it! As fire protection specialists, we collaborate with architects and engineers to consult and discuss the required protection and design the best layout and system inside the building for a fire protection system, according to building design and Australian standards.
Being a part of the initial planning process can help to reduce costs, as retrofitting a bespoke fire protection system requires a lot of extra work, can be a disruptive process and become costly.
What businesses need dry fire protection systems?
A fire indicator panel or (FIP) protects what is being housed inside by constantly monitoring the environment and alerting or alarming any changes. Dry fire protection minimizes damage done from traditional water sprinkler systems. They are recommended and sought after even for buildings that house delicate hard copy or historical documents, even art that needs to be protected. Fire detection systems are also often used for in house computer servers and expensive systems. Hospitals, schools, office and residential buildings are standard places that require a Fire detection system.
How does the dry fire protection system work?
A fire indicator panel works by constantly monitoring the air and temperature and alerting the occupants and fire authorities if any alarms or faults occur. Standard devices that are connected to a dry fire system include smoke, heat and flame detectors as well manual call points or break glass alarms. Generally, the FIP will also be integrated with an Occupant Warning System (OWS) or an Early Warning Intercommunication System (EWIS) and these systems alert all occupants on alarms to assist with evacuation.
Linking a fire system to a Vesda System or gas suppression can also offer a higher level of protection. These systems are normally linked to an external monitoring service that monitors the system 24/7. Fire and Wire technicians are also available 24/7 should we be required.
Ongoing fire equipment maintenance and service
Once your building has had the correct fire protection system installed it is also important to keep your building and occupants safe with our ongoing service. Fire protection maintenance services include maintenance of all of your fire services throughout the building. Fire and Wire's safety technicians will complete efficient and in-depth safety services across all services for peace of mind.
Do you and your staff need fire extinguisher training?
Do not let mandatory fire extinguishers be fitted without anyone knowing how to use them. Fire extinguisher training can be provided onsite at your business to help your staff or your tenants feel confident if they need to use the extinguisher. This is one of our add on services when we partner with you, as your fire protection provider.
Call us to consult with your architect or engineer so we can work hand in hand to provide the best placed dry fire protection system for your building, or discover our extensive fire protection services that will mitigate the fire risk for your business.