Melbourne's Premier Fire & Safety Solutions Provider
There's so much at stake when you own or manage a building or facility, particularly with essential services. You want and need to ensure that all equipment is correctly installed and maintained to the highest possible standard, and that all documentation is completed thoroughly to ultimately provide a safe environment.
That's where Fire and Wire can assist. At Fire and Wire we meet and exceed Australian Standards to offer you unprecedented protection.
We pride ourselves on a responsive, convenient and thorough service. All fire safety work is preceded with a live service report, and a quotation for any issues found. We contact you prior to any scheduled work to arrange the most convenient time. Our attention to detail extends from obtaining all necessary fire safety clearances to compiling reports. Fire and Wire maintains a vast array of facilities and we are sure we can give you the highest quality service available. Quality drive us over quantity so you can be comfortable knowing you are not just one of the thousands of sites we look after.
Every site is important to us, Safety is important to us, compliance is important to us, Satisfied clients are important to us. You can be completely comfortable that we can manage your site with undivided attention and care. All Fire and Wire clients get access to our portal showing all site information, reports, quotes and real time reporting giving you full transparent access to your information.
We are currently the trusted fire safety partner on many varied sites and look forward to working with you as part of our valued client list.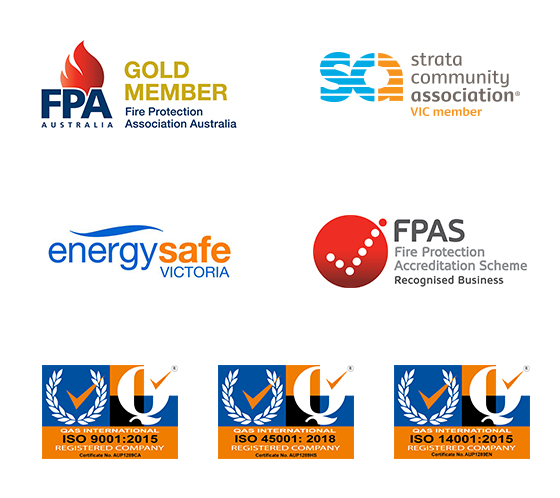 Accreditation
Our clients can be assured that the technicians attending their sites are fully qualified and accredited to our industry's highest standard. Fire and Wire is FPAS accredited with our Peak body the FPAA.
Our team of highly experienced fire systems and equipment technicians continue to learn and improve their skillset to give our clients the best service available. We are committed to the ongoing improvement of our staff skills and expertise.
Fire and Wire has also recently undertaken Management System ISO 9001:2015 Quality, ISO 14001:2015 Environmental, ISO 45001 Health & Safety to add further to our commitment to be an industry leader.